Category 8 FTP Field Terminable Plug
Our Category 8 fully shielded cabling solution support transmission of data up to 40Gbps over balanced twisted pair copper cabling. This Cat. 8 system has been tested and confirmed to meet the latest Category 8 ISO Standard configuration: 2m+26m+2m and 1m+5m+1m Channel. It maintains backward compatibility with Category 6A / 6 / 5e systems.
Product image / Product requirements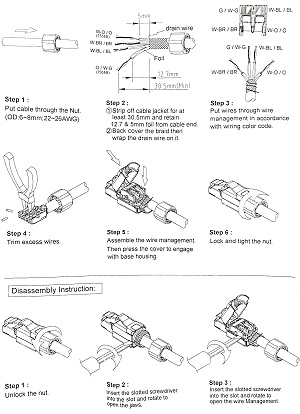 Delta verified Cat. 8 Channel Class I performance.
Design supports toolless termination.
Our 360° shield housing provides secure data transmission.
High quality die cast housing.
Insulation Displacement Contacts for solid/stranded wire from 22 to 26 AWG provide a secure connection.
Long release latch sensures easy insertion and removal in limited space.
Narrow profile supports high-density applications
Patented compensation method in a multi-layered printed circuit board provides excellent performance.